12 DAYS OF ARTISTS: DAY 10 - LHLA x LOTSTAR
ABOUT LOTTIE
Lottie was raised in Southern California. From an early age, she displayed a strong creative flair for art and self expression.

Upon completing an education in graphic design, she moved to London, England and quickly found work on a number of cutting edge projects. Breaking away from design a few years later, Lottie moved into what she would consider her true calling.

The world of makeup was a simple transition based upon her strong understanding of light, color, and form. Combined with precise application and attention to detail, Lottie's flawless results got her noticed.

Lottie has since keyed fashion shows in New York, Milan, Miami and Los Angeles. She continues to freelance for print and advertising worldwide. In 2016, Lottie collaborated with Limelight by Alcone creating her own limited edition collection.
Clients include: Calvin Klein, Marc Jacobs Beauty, Hermes, Esprit, Cole Haan, Lucky Brand Jeans, Forever 21, Sephora, Make Up For Ever, Monique Lhuillier, Urban Decay, Tarte Cosmetics, Bergdorf Goodman, Nordstrom, True Religion, Neiman Marcus, Sisley, 7 For All Mankind, AG Jeans, and Dewars.

Celebrities: Rihanna, Rowan Blanchard, Laura Herrier, Emilia Clarke, Halsey, Willow Smith, Natasha Lyonne, Juno Temple, Brie Larson, Alicia Vikander, Bella Thorne, Emmy Rossum, Olivia Cooke, Kelly Rowland, Robert De Niro, Shirley MacLaine, Taylor Swift, Anna Faris, January Jones, Nicole Richie, Alexandra Daddario, Elizabeth Olsen, Shannen Doherty, Famke Janssen, Emily Mortimer, Jessica Stroup, Aleksa Palladino, Sandra Bernhard, Leighton Meester, Michael Michele, Adrian Grenier, Charlotte Ronson, Mia Tyler, Beth Ditto, Solange Knowles, Robin Tunney, Gabrielle Union, Freida Pinto and China Chow… to name a few.


Meet the Artist: LOTTIE
LH: Did you always know you would be a makeup artist?
LOTTIE: No, I actually wanted to be a graphic designer!
LH: What's the strangest thing that has ever inspired one of your makeup designs?
LOTTIE: Ice.
LH: You are an artist known for creating wild, editorial looks that balance on a fine line between beauty and bizarre. Do you have any advice for more traditional artists that want to tap into a creative mindset and let go of the normal "rules" we all tend to follow with makeup?
LOTTIE: Let go of any doubt or worry, it's just makeup! Play, experiment with color and textures on anyone who will let you.
LH: Looking back at your career to date, is there a specific look that you are most proud of?
LOTTIE: There are a lot of shoots that I'm proud of. My recent favorite is my glitter shoot with Jamie Nelson where I slowly covered Staz Lindes' face entirely in glitter but in a color gradient. It was a super challenging makeup look and probably the most I've ever mentally planned for.
LH: What are your hero skin-prep products?
LOTTIE: Caudalie beauty elixir and moisture sorbet, Embryolisse, Tatcha face masks and my Bliss lip scrubber.
LH: Name three personal makeup items currently in your purse.
LOTTIE: Guerlain pressed powder, (many) Dior balms and Chanel Rouge liquid powder lip stain
LH: What were your biggest fears when starting out as a makeup artist?
LOTTIE: I don't think fear is something that I felt. I just knew I loved it and couldn't fail at making it my career.
LH: How did you first discover LHLA?
LOTTIE: Megan reached out to me via mutual friends and I was hooked immediately!
LH: What inspired "LOTSTAR" Spacejam® + STARDUST Naked Glitter™?
LOTTIE: My favorite color is purple and I wanted every shade to be holographic. I loved the pastel halo stars and mini slivers because they together looked like starbursts.
LH: Best Friends Animal Society is such a wonderful charity that we love working with! Have you always been a big animal lover and can you tell us about your pets?
LOTTIE: I've always been a huge animal lover! I currently have three cats (two adopted from Best Friends and a recent rescue Begal) and a 14 year old chihuahua (my baby Talula)!
LOTTIE'S WORK FEAT. LHLA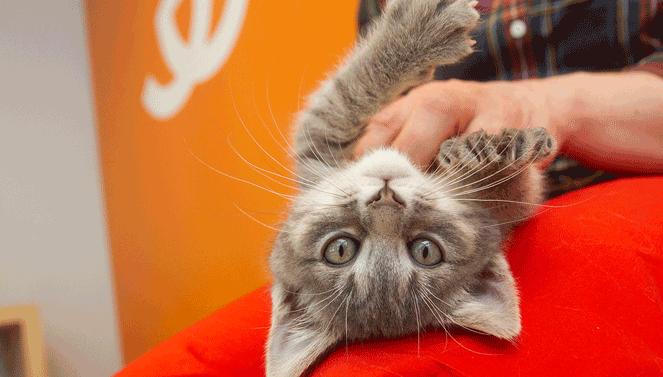 Best Friend's Animal Society